On September 16th 2018, we were honored to participate in the dedication of the newly created Benghazi Monument in Minnesota. Second of its kind (other than our foundation's monument located in Bigfork Montana). Bill had the distinct privilege of being the keynote speaker at the dedication of a Benghazi Monument in Minnesota, which is located at the Minnesota State Veterans Cemetery, in Little Falls MN.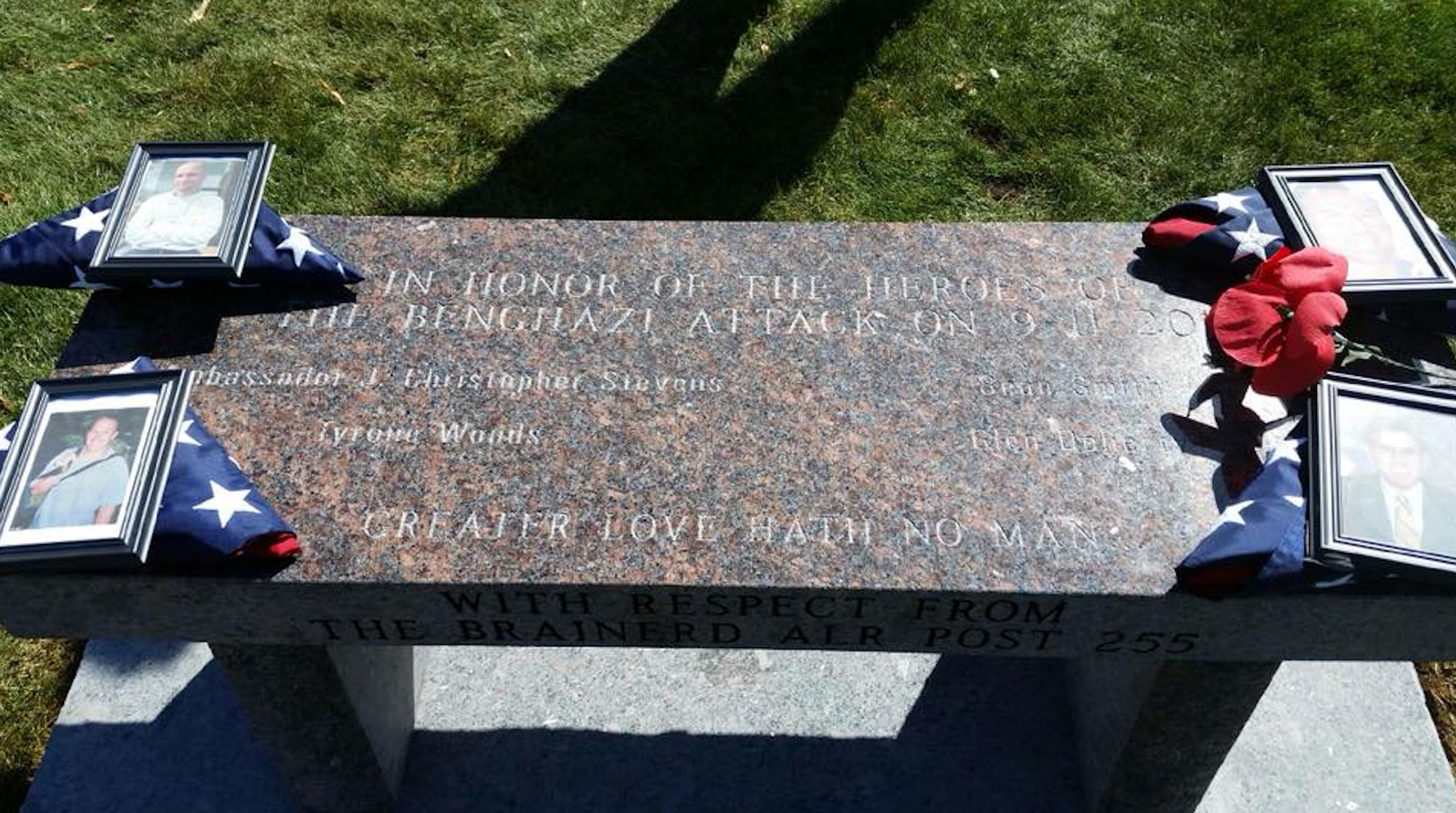 Back in early 2018, we were contacted by members of the American Legion Riders (ALR) Post 255 in Brainerd MN who had questions about how our Benghazi Monument was created. A Google search resulted some members of the ALR 255 taking a flight to Montana to visit to the Bigfork 9/11 Benghazi monument. Their group made contact with our board member Kevin Barrows, who took them to the monument site. Kevin explained how the area was chosen, some history of the construction of the Monument and allowed them to stay as long as they wished.
Already determined to create one of their own 9/11 Benghazi memorial, the visit provided inspiration. Assisting in any way possible (Bill in California and them in Minnesota), they put in a great deal of time effort and research. The result was a beautiful polished granite bench with the names of the fallen and a biblical quote neatly engraved into the surface. Although they drew their inspiration from our Monument, the ALR Riders of Post 255 hold the unique distinction of having the only Memorial dedicated to the four Americans killed in Benghazi that rests on public land.
Laura and Bill were their guests before and after the dedication and everyone they met could not have been more giving of their time and resources. "ALR 255 are among some of the nicest, most Patriotic Americans we have ever met", says Bill. The dedication ceremony was a testament to the Patriotism of all who were involved and a fitting tribute to the four who sacrificed their lives in defense of freedom. If you are ever in the area, it would be worth your time to visit and pay your respects to this one of a kind Memorial.
Bill Thomas
Co-Founder and CEO 9/11 Honor and Serve Foundation